Cara Melacak Kiriman Email Ancaman Bitcoin
- Terakhir diubah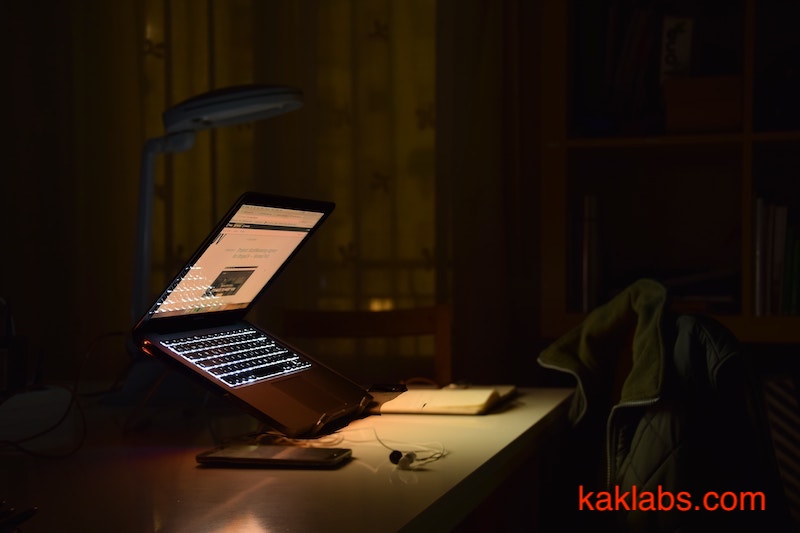 Pada suatu hari yang indah saya mendapatkan ancaman email atau surel dari Hacker. Email tersebut dikirimkan ke kontak[at]kaklabs[dot]com dan saat saya cek pengirimnya ternyata juga dari kontak[at]kaklabs[com] dengan isi sebagai berikut:
Judul email:
you are infected
Isi Pesan:
Hi, your account is infected! Change your pswd right this moment! You may not heard about me and you really are most probably wondering why you are receiving this particular letter, is it right? I'mhacker who burstyour emailand OSseveral months ago. It will be a time wasting to try to talk to me or look for me, in fact it's not possible, since I sent you this message using YOUR hacked account. I've set up special program to the adult vids (porno) site and guess that you have spent time on this website to have fun (think you understand what I really mean). When you have been keeping an eye on vids, your browser began operating as a RDP (Remote Control) that have a keylogger that provided me the ability to access your desktop and webcam. Next step, my software programgotall data. You wrote passcodes on the online resources you visited, I caught all of them. Needless to say, it's possible to change them, or have already changed them. However it doesn't matter, my app updates needed data every time. What actually did I do? I got a backup of the system. Of all the files and each contact. I got a dual-screen movie. The 1 section presents the clip that you were watching (you have got an interesting taste, ahah…), and the 2nd part presents the tape from your webcam. What must you do? Good, in my opinion, 1000 USD is a good price for this little secret. You will make the payment by bitcoins (if you do not recognize this, try to find "how to buy bitcoin" in Google). My bitcoin wallet address: 1LAWGnA2K5njVSshERU9bcUSrW2YWwtXs1 (It is cAsE sensitive, so just copy and paste it). Attention: You have 2 days to perform the payment. (I have an exclusive pixel to this letter, and at this time I understand that you have read through this email). To trackthe reading of a messageand the actionsin it, I set upa Facebook pixel. Thanks to them. (Everything thatcan be usedfor the authorities may also helpus.)

In case I do not get bitcoins, I will undoubtedly direct your video to all your contacts, including family members, colleagues, and so forth?
Dengan menggunakan email yang sama untuk pengirim dan penerima, hacker tersebut ingin memberikan opini bahwa dia berhasil login email saya.
Email tersebut membuat saya penasaran dan memutuskan untuk menelusuri pengirimnya dengan memanfaatkan header pada email.
Setiap email yang terkirim memiliki header yang berisi informasi pengirim dan berikut ini adalah contoh mendapatkan informasi header pada Gmail:
Buka email yang ingin Anda periksa header-nya.
Di samping Balas Balas, klik Panah bawah Panah Bawah.
Klik Tampilkan yang asli.
Salin teks pada halaman.
Buka Fitur header pesan.
Di bagian "Tempel header email di sini", tempelkan header Anda.
Klik Analisis header di atas.
Jika menggunakan Yandex Mail:
Buka Pesan
Klik Ikon "…"
Pilih "Message Properties"
Select text dan lakukan copy
Setelah mendapatkan data header, ada dua hal yang saya lakukan, yaitu melacak email dan membandingkan header dari email saya sendiri.
Cara Melacak Email
Header yang telah saya copy seperti dibawah ini, saya paste pada online tool Email Header Parser di KAK Tools. Perlu diingat, pada Gmail atau Outlook mungkin agak berbeda bentuk headernya.
Hasilnya adalah sebagai berikut, pengirim email adalah domain ictmessmta1.ictmess-orange.ci dengan IP address 196.201.92.139.
Secara ringkasan total melalui 6 server untuk mencapai ke inbox email saya.

Dan mulai mengirim email pada server domain ictmessmta1.ictmess-orange.ci dengan IP address 196.201.92.139.

Artinya adalah pengirim tidak membajak email saya dan menggunakan email saya untuk mengirim pesan, hanya gertakan biasa.
Diketahui IP address pengirim adalah 196.201.92.139, selanjutnya saya melakukan penelusuran terhadap IP address tersebut melalui tool IP Address Lookup di KAK Tools dan berikut ini adalah hasilnya:
| Name | Value |
| --- | --- |
| IP Address | 196.201.92.139 |
| ASN | AS29571 ORANGE COTE D'IVOIRE |
| ISP | Orange Côte d'Ivoire |
| Country Code | CI |
| Latitude | 5.30406 |
| Longitude | -4.00871 |
| Timezone | Africa/Abidjan |
| Address | Avenue 17, Nanan Yamousso, Zone 2b, Treichville, Abidjan, ABIDJAN 01, Côte d'Ivoire |
Bandingkan Header Email Kiriman Sendiri
Selanjutnya saya mencoba membandingkan dengan header email yang saya kirimkan sendiri dengan isi email berupa kata "hello world" dan berikut ini adalah perbandingannya.
Header Email Ancaman Hacker
Header Email Kiriman Sendiri
Dari informasi header kiriman saya sendiri terdapat beberapa perbedaan dimana email yang saya kirimkan sendiri memiliki:
Header lebih pendek.
X-Mailer berisi Yamail [ http://yandex.ru ] 5.0.
Bagian Received berisi kata depan mxback.
Tidak memiliki List-Subscribe dan informasi selain dari domain Yandex.
Bagaimana Email Ancaman Hacker Tersebut Dikirimkan?
Saya tidak tahu apakah menggunakan suatu tool atau membuat program sendiri. Untuk mengetes aplikasi saya pernah mengirimkan email ke diri sendiri, kode yang dituliskan pun tidak panjang. Berikut adalah contoh kode untuk mengirim email:
Kesimpulan
Kesimpulan dari hasil melacak email ancaman hacker dan membandingkan header email yang saya kirim sendiri adalah sebagai berikut:
Hacker tersebut tidak mengambil alih email saya, hanya gertakan biasa. Kenapa? selain karena email saya menggunakan 2 Factor Authentication / 2FA, analisa terhadap email yang dikirim tersebut membuat saya yakin email saya tidak di-hack.
Hasil penelusuran Google terhadap bitcoin 1LAWGnA2K5njVSshERU9bcUSrW2YWwtXs1 ternyata tidak hanya saya yang dikirimkan email ancaman tersebut.
Header email asli yang saya kirim sendiri lebih pendek dan bagian received memiliki kata depan mxback, sehingga jika hacker tersebut mengirim email atas nama saya ke diri saya sendiri harusnya header sama.
Email dikirimkan seseorang melalui server di Afrika melalui domain ictmessmta1.ictmess-orange.ci dan IP address 196.201.92.139. Detil mengenai informasi pemilik ictmessmta1.ictmess-orange.ci ada dibawah.
Server dengan IP address 196.201.92.139 tersebut kemungkinan didalamnya terdapat program untuk melakukan email blast.
Email ancaman tersebut ada kaitan dengan domain gidci.com. Dari domain ini tidak ada informasi yang bisa saya dapat.
Email ancaman hacker terdapat X-Mailer: Kegsnab sedangkan header email asli memiliki X-Mailer berisi Yamail [ http://yandex.ru ] 5.0 dan hanya berisi domain terkait Yandex.
Email ancaman hacker terdapat List-Subscribe: https://gidci.com/lists/?p=subscribe, mungkin menggunakan tool yang biasanya digunakan untuk email marketing.
Berikut informasi Whois domain ictmessmta1.ictmess-orange.ci yang mengirimkan email.
Rekomendasi Services
Service-service dibawah ini pernah dan sedang oleh KAK Labs saat mengembangkan project dan sangat direkomendasikan.